The Armed Forces of Ukraine will employ the RPG-7 simulator to train soldiers.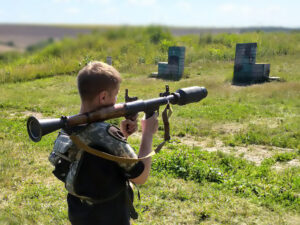 SKIFTECH, a Ukrainian full-cycle manufacturing company, has created anti-tank rocket-propelled grenade launcher using laser technology. The initial assembly of the grenade launcher has already undergone testing by the Armed Forces of Ukraine.
The RPG-7 is highly versatile within infantry operations. It serves the crucial purpose of neutralizing tanks, armored personnel carriers, combat vehicles, fortified positions, and even enemy manpower.
The tactical simulator for the grenade launcher is specifically designed to hone loading and handling skills associated with the RPG-7, in addition to refining aiming accuracy under diverse combat conditions. The simulator's weight and dimensions mirror the parameters and traits of an actual grenade launcher.
The Process of RPG-7 Tactical Simulator Training
During training, the RPG-7 laser simulator interfaces with the instructor's tablet or computer, while a specialized radio coverage system is implemented on the training grounds. For the armored vehicle designated as the target, devices are affixed to capture the laser emitter's signal for damage assessment. The fighter loads the RPG-7 simulator with a grenade, takes aim, and successfully strikes the intended target. The instructor assesses the shot, identifies errors, and outlines areas for enhancement.
The simulator offers opportunities for individual training, both on standalone simulators and as part of joint military tactical exercises, in conjunction with other equipment from the SKIFTECH ecosystem. This includes simulators for personal weapons, explosive devices, armored vehicles, artillery, mortars, assault antitank weaponry, MANPADS, and other types of simulators.